News & Updates
QI Learning sessions run by the Tech Champions by Samina Aklas, Trainee Data Analyst It is always stimulating to deploy new technology and tools to enhance the work we do. The Quality department asked for volunteers from within the department to become Tech Champions. They offered a series of group and 1:1 session to… Read More
---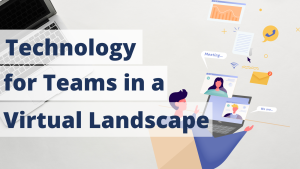 ---
Did you know that over 2000 people have now undertaken QI training at ELFT?  And nearly 1000 are currently involved in QI projects to tackle some of the organisation's most complex problems.  That amounts to a lot of people using their QI skills! Using the structure of a QI project is the best method for… Read More
---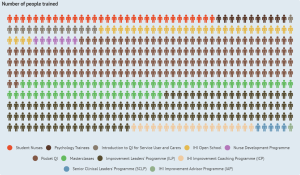 ---
To open an interactive version of the Illustrated Guide please click on the image below. Also find out below how you can order your own copy! Order your own Illustrated Guide to QI We have made the guide available on Blurb, who you can order the guide from in a premium magazine format. This… Read More
---
---
By Emma Binley, QI Lead for Newham & Children's Services  The Coborn Centre for Adolescent Mental Health is currently running a QI project within the team who work on their Psychiatric Intensive Care (PICU) ward. Their project is focusing on reducing the number of incidents of physical aggression. Since the project first began, data… Read More
---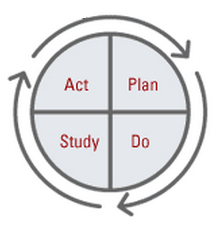 ---
By Auzewell Chitewe, Senior Quality Improvement Lead An inevitable question a Quality Improvement (QI) project team will ask themselves at some point is: "When can we say we have achieved our aim and close our project as 'complete'?". Some projects close without achieving their aim because the initial aim is no longer achievable due to… Read More
---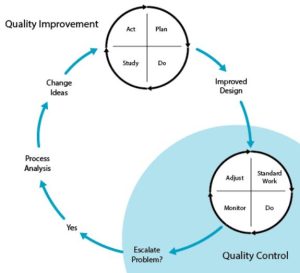 ---
On 1st June we were delighted to be joined by Dr Pierre Barker, Senior Vice President, Institute for Healthcare Improvement (IHI). Pierre delivered a masterclass on the scale up and spread of improvement to an audience including wave 1 and 2 improvement science in action graduates. His presentation Getting Results at Scale is available to download here…. Read More
---
---
We were delighted to welcome Dr Don Goldmann to our QI wave 2 learning set at Hackney Town Hall this week. [wpvideo pgkvRSOD]
---
---
By Duncan Gilbert, Healthcare Governance Manager In my last piece for the November newsletter I talked about measurement for improvement, and particularly the use of incident data in measuring safety, as one dimension of quality. Since then the Trust has updated its incident reporting software, Datix, and now it's never been easier to delve into the… Read More
---
---
by Duncan Gilbert, Healthcare Governance Manager  Measurement is a vital part of improvement; it almost goes without saying that if we don't measure we will not have a clear idea of what needs to improve, and neither will we know if changes or improvement work have had any effect. Of course, there are almost as… Read More
---
---
The Pareto Principle describes that 20% of the sources cause 80% of any problem. It is a tool to help remind you to focus on the 20% that matter; which will have the greatest impact if solved.
---
---
What do we mean when we talk about measures in quality improvement? We've received a number of requests for guidance on how to use measures in your projects. Why do we need to collect measurement data?   You have a project, with an aim and some ideas for change. How will you know that the… Read More
---
---
There are many other tools you can use in your Quality Improvement work, as such we've built an Improvement Tools section of the microsite to help you navigate these. You can also now install some specialist software, QI Charts on your computer which will help you to generate some of these charts and better understand your data.
---
---