17 August 2018
Clinical Psychologists present posters at annual SRRP conference
Trainee Clinical Psychologists from across the Trust presented posters for their Service Related Research Projects (SRRP) at a conference on 15 August 2018.
A total of 24 Clinical Psychology Trainees on placement at East London Foundation Trust have completed Service Related Research Projects (SRRP) as part of their first year of training. Conducting practically oriented research is an important part of the clinical psychologist's professional role, and the aim of the SRRP is to help trainees develop their research skills, including the ability to communicate research findings to clinical colleagues, and to give them experience in integrating research with clinical practice.
The projects tackled issues such as reducing waiting times, enjoyment at work, access to community health services, capacity management in Bedford, Hackney, Newham and Tower Hamlets. Posters presented at the conference are available here.
This is the third year of the programme and the experience has become more robust, as QI culture is more embedded in the organisation.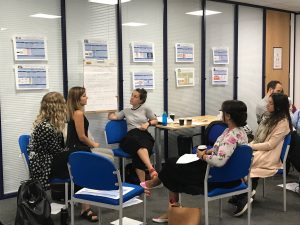 Dr Erasmo Tacconelli, Consultant Clinical Psychologist and the Psychological lead for the SRRP​, said: "Trainees are an important staff resource and we are providing them with a template for a good learning experience. And what is interesting about QI is that it doesn't matter what grade you are everybody can do it. Trainees are seen as valuable resource, they feel empowered by the programme."
As part of the programme, Psychology trainees are required to join a QI Project; have an understanding of QI methodology; join projects that adhere to their course requirement; use any qualitative or quantitative or mixed methodology; develop leadership and use their autonomy and initiative.