Implementation and sustaining the gains
Implementation
How do we ensure we hold the gains of improvement work through effective management of implementation?
Not sure how to move to the next stage if you've got a high believe your change idea is working? Unsure about the difference between the testing and implementation phase? Watch this video, in which Jen Taylor-Watt, one of our QI Leads, answers these questions.
The first 10 minutes of the video is an explanation of the theory and the last 12 minutes provides examples from the Tower Hamlets Violence Collaborative.
Supporting resources are also below….
---
The Sequence of Improvement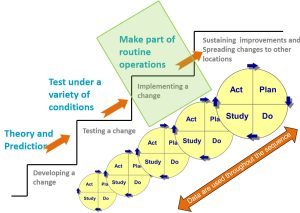 Testing Vs Implementation
Testing – Trying and adapting existing knowledge on small scale. Learning what works in your system.
Implementation – Making this change a part of the day-to-day operation of the system
The key test of how embedded your changes is: How confident are you the change would persist even if you/your leads were away for a month?
---
How do we implement effectively?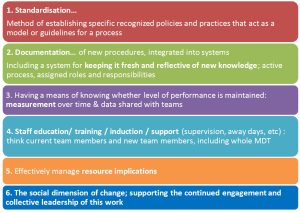 (The Improvement Guide – Chapter 8)
For further information and examples of successful implementation please click here to download our guide here>>
---
Use our Implementation Action Plan for your Ward/Team



Click to download
Click to see just this resource


This is useful for sharing just this resource rather than the whole collection