29 June 2015
ELFT shortlisted in the Nursing Times Awards 2015
The Trust has been shortlisted in the Nursing Times Awards in the Care of Older People category. The awards recognise innovation in healthcare and celebrate initiatives that improve patient outcomes.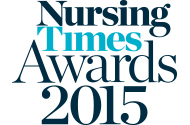 This year, the Nursing Times received over 800 entries from over 300 organisations. ELFT has been shortlisted alongside seven other healthcare providers in the Care of Older People Category. The category recognises organisations that are implementing initiatives that improve the care of older people in a hospital setting. The shortlisting is in recognition of our QI violence reduction projects that aim to reduce harm and provide the right care, at the right place and right time.
The Safer Wards Project aims to tackle levels of violence and aggression on older people's wards in Hackney and Newham. The Quality Improvement methods supported staff to address the problem, including identifying factors that could lead to increased violence. The project included a number of creative changes to the ward environment including a sensory room, increased activities, more regular interaction between staff and patients, pet therapy and noise reduction. The project succeeded in reducing violent incidents by 50% over the course of one year. Staff injuries were reduced by more than 60% and the Trust estimated reduced costs associated with a reduction of violence of close to £60,000.
The project titled: Safer Wards: reducing violence on older people's mental health wards, has been published in the BMJ Quality Journal. To read the full article please click here.