30 May 2023
End Of Flow QI Programme Summary
Collated by

Sarah McAllister (Senior Improvement Advisor)

, with input from all teams involved

 
Over 50 teams at East London NHS Foundation Trust (ELFT) have been working to improve their waiting times, backlogs, and increased demand by using a systematic approach to addressing patient flow.   Staff and service users have worked together across the whole healthcare system, including from GP referrals, primary care, community, and inpatient care.   
In this 5-minute read, see a cross section of those team's work, including how they've understood their problem, their theories of change, specific change ideas they've tested, data for improvement and take away learning.  These short stories will be of interest to anybody who wishes to improve flow through their service. 
Tower Hamlets Psychological Therapies Service
Abi Harris, Tatiana Cano, Lauren Becker, Ayesha Pudaruth, Irene Fang, Samiha Islam, Fiona Lin, Priyasi Uruthireswaran, Marreyah Haq, with thanks to previous team members Bahar, Carina and Syeda
What problem did we tackle?
Tower Hamlets Psychological Therapies Service is a secondary care outpatient service for people with complex and enduring mental health difficulties.  Data showed that we had many service users who were waiting over the target of 18 weeks from referral received to second contact.
In light of this, we aimed to achieve an average waiting time of 12 weeks (84 days) or less from the moment the referral is received, to when the 2nd contact is offered by January 2023.
How we understood our problem
We consulted service users and carers from the People Participation group
We did a focus group with staff
We did some detailed analysis of our baseline data e.g., how many assessments were being cancelled / not attended and then re-booked
We mapped our ideal patient pathway (see Figure 1)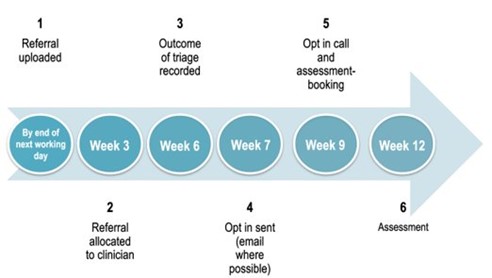 Figure 1 – our ideal patient pathway 
Our theory of change
Figure 2 shows the driver diagram our team developed to understand how we would get to achieving our aim.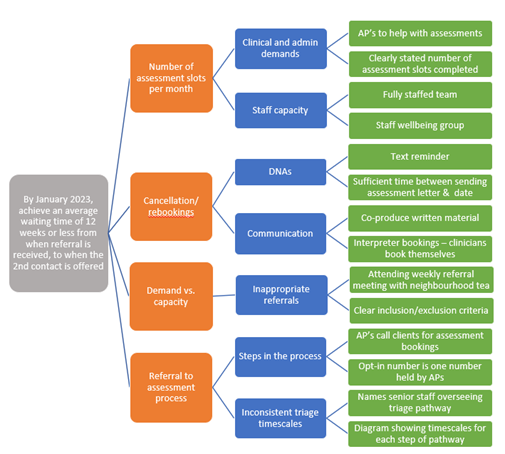 Figure 2. Driver diagram
Data and learning
Methodically testing change ideas really helped us to see what was working and what was not.  The change ideas we think had the most impact were having a fully staffed team, assistant psychologists calling clients for assessment bookings, having a named senior team member overseeing each step in our patient pathway and a short weekly meeting to monitor whether timescales were being met at each stage and if not, to problem solve any bottlenecks.  Involving service users in the process was invaluable to our success.  We have seen a steady reduction in the average time that people wait from referral to first assessment (Figure 3)

Figure 3 – Average waiting time from referral to first assessment (I chart)
Admission Avoidance and Discharge Service
Eleanor Mata (project lead), Davinder Kaur (coach), Andy Johnson, Ben Rossington, Ayo Ajibade, Mansurat Sodipo
What problem did we tackle?
Our team identifies, assesses, and co-ordinates admission avoidance /discharge for patients in the Emergency Department (ED) at the Royal London Hospital (RLH) and provides follow up / rapid response in the community.  By using process mapping (Figure 4) to understand our problem, we discovered several things:
Increased administrative process in completing referral within the admission avoidance service from the ED at RLH to community pathway
Use of unnecessary administrative process in alerting team of the new referral
Manual data collection, not all contacts are recorded on EMIS
Delay in sending referrals to the district nurse
Patients who stay longer were becoming deconditioned without therapy intervention
Based on this understanding we aimed to reduce the length of stay in acute hospital to two days by March 2023.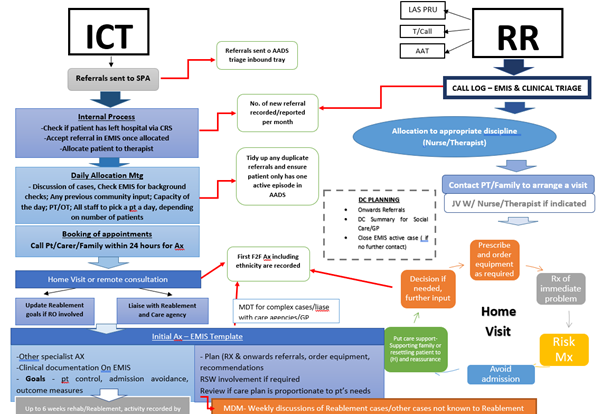 Figure 4 – Our process map
Our Theory of Change
Figure 5 shows the driver diagram our team developed to understand how we might reduce length of stay.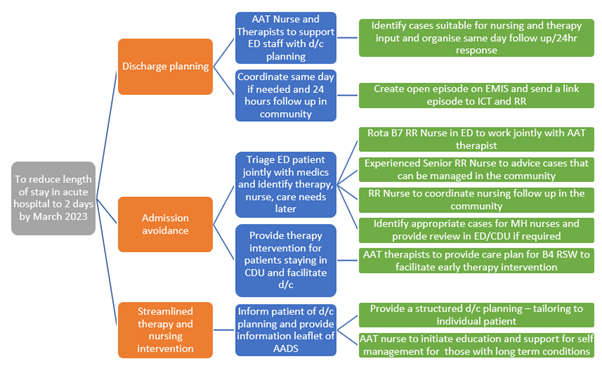 Figure 5 – Driver Diagram
A key change idea we are preparing to test is having a rapid response nurse supplementing the team to co-ordinate discharges in the ED, screen and proactively identify ED patients that could be facilitated home and assess and formulate care plans for service users with nursing needs.  We think this idea will reduce length of stay because these service users would otherwise be unidentified if it weren't for the rapid response nurse.  We predict that it will also reduce the number of steps it takes to refer an individual for nursing input.  Our next steps are to test this idea and monitor our data to see if we begin to show improvements on our outcome measure of length of stay.
Newham Child & Adolescent Mental Health Service
Christian Hudson, Fiona Stockley and our clinical team leads
What problem did we tackle?
Our service offers mental health assessment, diagnosis, and intervention for young people in Newham.  We identified a long wait time for young people to get an initial assessment and this is impacting on young people and carers' wellbeing.
We aimed to reduce the time Young People in Newham CAMHS wait from referral to assessment to 9 weeks
Our theory of change
Figure 6 shows the driver diagram our team developed to understand how we would get to achieving our aim.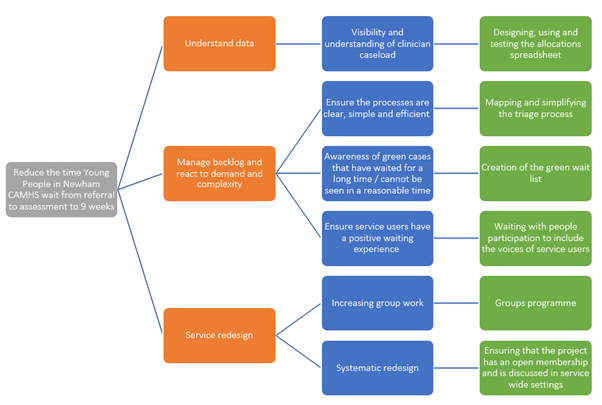 Figure 6 – Driver Diagram 
Data and learning
We have tested several change ideas using the Plan Do Study Act (PDSA) cycle.  Through this we have found that the creation of a green wait has improved our prioritisation of cases.   This enabled us to reduce the number of young people on our waiting list by 116 people (see Figure 7).  Our next steps is to test the use of group interventions.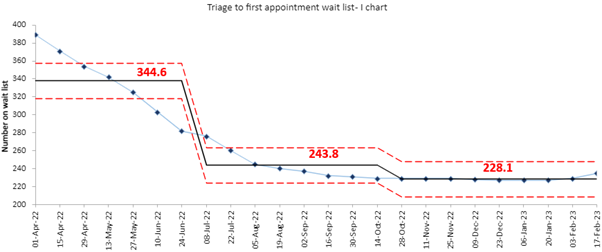 Figure 7 – Number of people on our triage to first appointment waiting list (I chart)