Virtual Pocket QI: External Participants
Register for event
Please note this virtual training is open to anyone outside of ELFT
ELFT staff, service users and carers book here>>
ELFT Quality Improvement (QI) Department is hosting a one-day Pocket QI training
This is an interactive easy to follow introduction to some of the concepts and methods of QI.
Join our team of  Improvement Advisors who will take you through the fundamentals of QI and how you can make apply the methodology to your personal and professional life.
Venue: Training will be delivered by 'Zoom' video conferencing.
Date and Time:
Wednesday 12th August 

Part 1 – 9.15am to 12.15pm
Part 2 – 1.30pm to 4.30pm
Price: 
£120 per person, booked using Eventbrite
You will need to attend both sessions in order to graduate. Please book your place using the Eventbrite registration form below.
Please note: Our minimum numbers for this course are 12 people. If fewer than 12 are booked then we may ask that delegates join another Pocket QI cohort at a nearby date, or postpone the session for external participants to a later date.
---
Who is it suitable for?
Anyone currently involved in QI work or wanting to learn more
NHS healthcare staff and service users outside of ELFT
What are the pre-requisites?
There are no pre-requisites for this course. Pocket QI is designed as an introductory course.
What is the course length & structure?
Pocket QI is composed of two half day sessions in a classroom or virtual format
Each part is 3 hours long. Part 1 delivered at 9.15-12.15pm and part 2 at 1.30-4.30pm
The course can be delivered over one day, and also virtually
What is covered?
Overview of Quality Improvement methodology
Developing measures and using data for improvement
Testing and using PDSA (Plan Do Study Act) cycles
Application of commonly used Quality Improvement Tools
How often does is this course held and how can I book a place?
We conduct Pocket QI at least once a month for ELFT staff, service users and carers.
We conduct virtual Pocket QI training for external participants on an occasional basis.
Register by using the Eventbrite booking form below
Register for event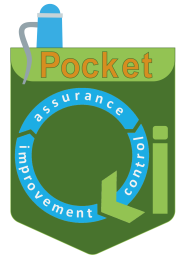 Venue: Zoom Video Conference
Cost: £120 per person (+£9.95 Eventbrite FEE)
---