23 March 2020
QI/QA Department 'tests' remote working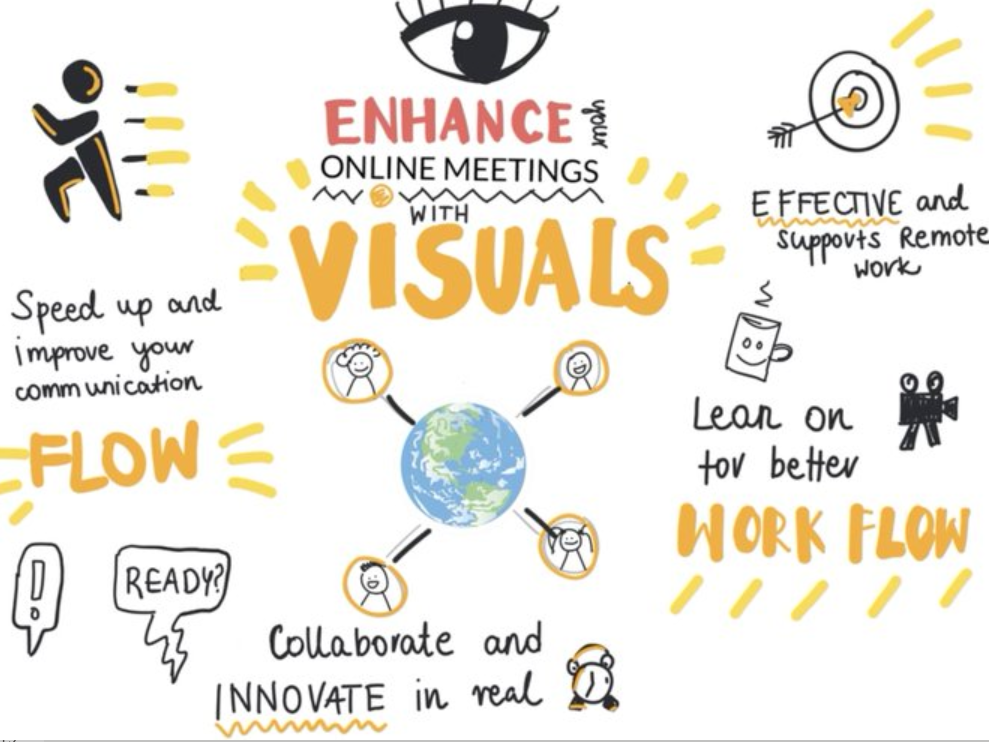 On Friday the 13th March (was that a sign?) we conducted our first 'test' of total remote working. Little did we know then that this way of working would quickly become the norm for millions of workers across the globe.
1st test cycle – 'one day of remote working'
As normal with all improvement work we first developed our theory of change and strategy predicting that if we used social platforms and software ('MS teams', 'WebEx' and 'MS SharePoint') appropriately we would be able to communicate and operate as normal.
We defined our measures:
Outcome measure: hosting two meetings successfully throughout the day with all staff
Process measures: one 'MS teams' meeting and one with 'WebEx', in addition using 'SharePoint' to collaborate on documents
Like all Plan Do Study Act (PDSA) rapid cycle tests we planned what to do on the day, who would host and attend the meetings; what the expectations were; when it going to happen and how it would happen.
Study: The first test was a resounding success with two successful meetings conducted all staff being able to attend, hear and contribute with a celebrated balance measure of enhanced camaraderie. An unexpected outcome we wanted to build on.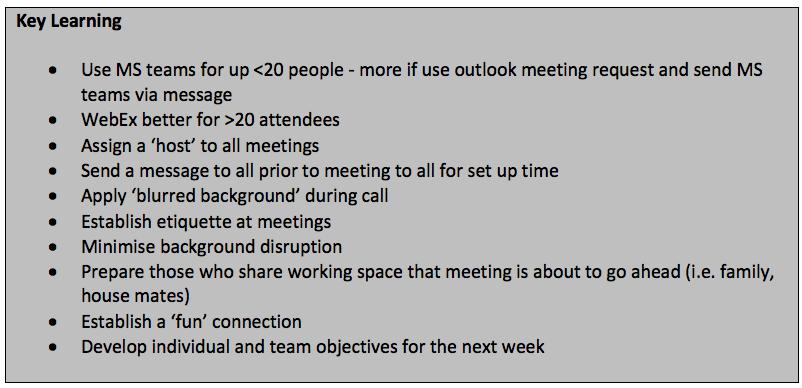 Our key learning  informed our second test 'remote working for one week' (at the time we still didn't appreciate that this would become the norm')
2nd test cycle – 'one week of remote working'
On Monday 16th March we planned and conducted our second 'test' of total remote working but this time for one week. Globally more and more organisations were doing the same and there was an abundance of literature being circulated to inform remote working, some of which we are collating in this Virtual Working collection >>
We redefined our measures:
Hosting two meetings successfully throughout the day with all staff for one week
Developing weekly objectives and monitoring progress
MS teams meeting at 9.30 every morning for QI 'business'
Afternoon huddle with QA via WebEx for '15 minutes of fun'
Collaborative working using 'SharePoint' to produce documents
Conduct a 'menti.com' survey at the end of week to provide some qualitative data
Study: Our measures were achieved and in addition, midweek we incorporated a daily '15 minutes of mindfulness'. Progress of the objectives for the week were monitored daily and changed as priorities changed. To gain a sense of the feelings around remote working the team were asked to feedback via 'menti.com' on the questions below.
Overall it was reported that remote working was going well however, there were concerns expressed over long-term sustainability and staff wellbeing.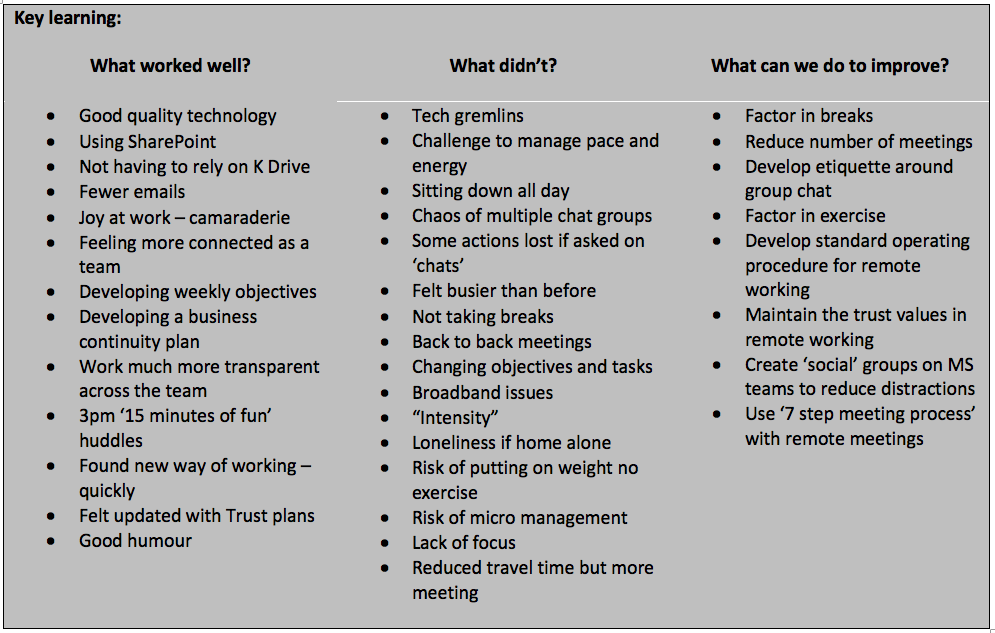 As we move forward continuing this unknown dynamic journey, it seems we will be continuing our remote working for some time, but going  forward will adopt the suggestions to improve.
The team were also asked to make some recommendations, in as few words as possible, what they would suggest to others working virtually.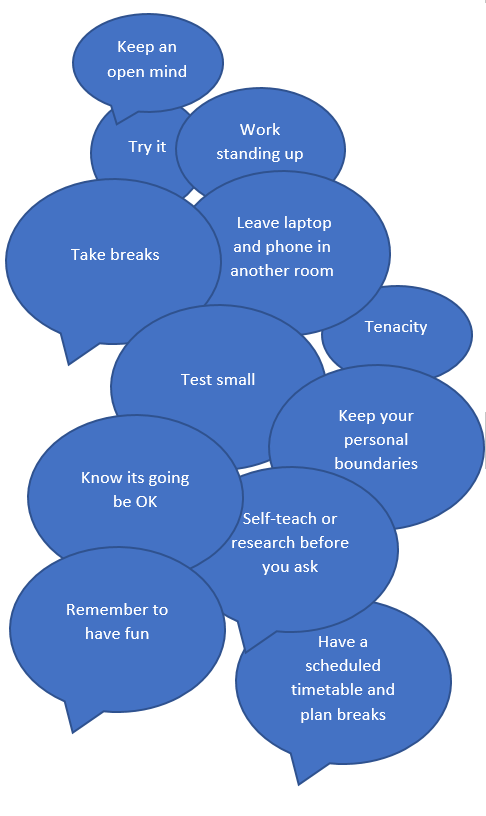 Some further highlights…