20 September 2022
Using QI to reduce therapies waiting lists in the Tower Hamlets Extended Primary Care Teams (EPCT)
by Carlos Santos, Improvement Advisor and Gemma Blake-Ryder 
The Tower Hamlets Extended Primary Care Teams (TH EPCTs ), working across four localities in Tower Hamlets, have come together to start an amazing piece of improvement work, aiming at reducing the size of waiting lists for Therapies by 12% by December 2022.  
To achieve this, the teams have worked with the Performance team to build a Dashboard to help visualise a range of key measures, including their baseline measures around teams waiting list sizes.  
This dashboard is allowing TH EPCT teams to profoundly understand their system, identifying some key questions they will try to answer. For example, the Southeast Occupational Therapy team (South East OT) are looking at their waiting list using data over time (figure 1.), in this case a control chart that also shows the limits of expected variation. Using this approach, the team have identified several indicators that something has changed how their system operates (often called signals of "special cause" variation). For example, a marked trend can be seen steadily pushing up wait list sizes from September 2021.  
This finer grained approach to measurement is allowing the teams to have deeper discussions around possible causes and issues of increased waiting lists, guided by data.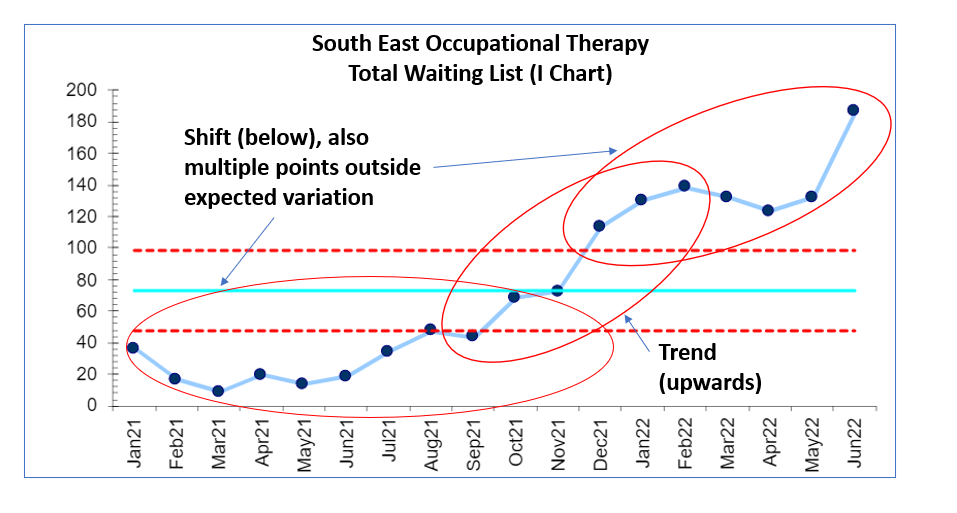 Figure 1: monthly number of patients waiting list – Southeast OT Team with special cause variation circled, one shift and a trend upwards, as well as multiple points outside of expected variation defined by the dotted red boundary lines. No baseline has been set for this data as yet.
NEXT STEPS:  
The teams will continue looking at ways to optimise flow and deliver the best and timely care for their service users. The team is regularly meeting every two weeks to consolidate their learning about the system and proposed changes. They expect that this learning will help them build a theory of change (also known as a driver diagram) on how to optimise the patient flow in Therapies.  
From their discussions to date they are aiming to tackle the following areas:  
Improve triaging strategies.

 

Ensuring that Staffing structure does meet demand (referrals) and capacity (staffing).

 

Maximising staff retention and recruitment.

 

Use screening tools to improve prioritisation.

 

Reduce inappropriate referrals.

 

Reduce the overlap of services.

 

Reduce to amount of rejected referrals.

 
The team is also identifying best practices already occurring in some of their localities, so that they can start testing those practices as change ideas to reduce waiting lists.