Enjoying Work Cohort 4
In this collection you can find resources from previous Enjoying Work Cohort Learning Collaborative. Please sign up here>>> to attend an Introductory Session and find out how you can join the learning collaborative.
---
Register an ELFT QI project on Life QI
Step 1 – Locating the QI project charter
When you login to platform, you will be on the "Start" page.
Locate the "Projects" section on the left ribbon and click on it.
Click on the "Start a new project +" button which will open the project charter form.
Step 2 – Workflow and title
Ensure the "ELFT QI Projects" option is selected in the "Workflow" field.
Give your project a title, for example "Enjoying Work – Team Name".
What is the problem you are trying to solve?
Step 3 – What are you trying to accomplish?
What is your aim for the project?
What is the rationale for the project?
Step 4 – Who's involved & who can see the project?
Every project needs to have three roles: Lead Directorate, Lead User and Lead Organisation before it can proceed

Lead Directorate – You will need to select the Lead Directorate by clicking on "Lead Directorate".
Lead User – You will be automatically added as the Lead User as you are completing the project charter. This can be changed later if required.
Lead Organisation – The organisation you are signed up with will automatically be set as the Lead Organisation.

You will also be able to add the project team members by clicking on the "Invite new members +" button.

You can search for the team member by typing in their name in the search bar.
Team members must be registered on the Life QI platform before they can be added to a project.
You will be able to set their role and what editing rights they will have on the project.
Once you've added them to the project, they will appear under the "Ready to invite" until the charter is complete.

There are two settings for viewing projects:

Only members can view – only users linked to your project or Lead Organisation can view your project.
Everyone can view – everyone on the Life QI platform can view your project.

All ELFT projects should be set on "Only members can view".
Step 5 – Categorise your project
You can link Trust-wide priorities to the project.

Click on the "Link a priority +" button.
This will bring up all the priorities linked to your Lead Organisation.
Simply select those priorities relevant to your project and click "Link +".

You can add tags to your projects that help identify them.

Click on the "Add a tag +" button.
Simply type in the keywords one by one and select them.
Step 6 – When and where is the project taking place?
The start date would automatically be populated to today's date.
The end date would automatically be populated for a month from today's date. To change it, simply click on the field and a calendar will appear allowing you to set the new date.
Enter the location of where the project is taking place.
Step 7 – Workflow actions
ELFT projects require a few additional questions answered around the project structures in place.
The "Additional Information Required" will be highlighted in red. Click on the "Open" button which will bring up a new report.
All the fields from the previous report will appear at the top of the page.
There are six questions and the bottom of the page that need answering. Your answers will help your directorate sponsors ensure all the relevant structures are in place before they can approve the project.
Once the question have been answered, click on the "Create report" button at the bottom of the report.
The "Additional Information Required" area should no longer be highlighted in red. It will have "Done" appear on the right.
Step 8 – Workflow actions
Once the project charter is complete, you need to submit it for approval from your directorate's sponsors.
There are two options:

Request approval now – If your project charter is complete, you can select this option and it will be sent for approval.
Create a draft – if your project charter is not ready for submission, you can save it as a draft. You can come back to the project and edit all the relevant fields before you submit it for approval. 

Once you have submitted the project for approval, the project will be locked until it is approved.
The Driver Diagram, PDSA and Measures and Charts area will be locked.
The project progress score will be 0.5 until it is approved. Once approved, it will automatically change to 1.0.
Upon approval, all the features of the project will be unlocked, allowing you to start testing.
Click to see just this resource


This is useful for sharing just this resource rather than the whole collection
Enjoying Work Cohort 3
Congratulations to all teams who took part in the ELFT Enjoying Work Cohort 3 learning system. In this collection you can find learning materials, pictures and stories from the teams during their participation between September 2019 and March 2020. You can find more
highlights in this blog
, and also see a range of
project posters
produced by the teams to share their learning from the experience.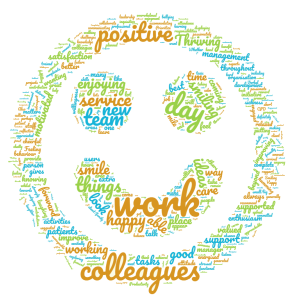 Click to see just this resource


This is useful for sharing just this resource rather than the whole collection
Life QI – Guidance
Life QI is our online home for QI projects at ELFT. In this collection you can find guidance on using the platform for Project Leads, Sponsors and Coaches.
The platform is now your main workspace for QI. You can very simply submit new projects, review QI projects across the Trust and beyond.  Easily create and edit driver diagrams, plan and track PDSA cycles, measure your data and best of all see your data in run and control charts that are generated automatically by the system!
This platform is designed to save you time and keep all of your QI project resources in one place.
Life QI aids your communications with your project team; Your project team can see all the changes too and your QI sponsor is also kept up to date. Another benefit of this platform is that you can access it anywhere via the internet once you are registered! Review and develop your project on the go!
Anyone in the Trust who is currently working on a QI project will be automatically signed up for Life QI, look out for your log in details in your emails, we'll let you know when to expect them. When you're ready to start using Life QI please go ahead and log in!
Click to see just this resource


This is useful for sharing just this resource rather than the whole collection
Enjoying Work
'Enjoying Work' Workstream Update
In previous newsletters, we shared some of the Trust-wide priority areas that are being tackled collaboratively by several teams using QI (Quality Improvement) as the design framework. One such work-stream is "Enjoying Work". Feedback from staff through different avenues, including the annual staff survey, has highlighted the need to improve the experience of staff working across the East London NHS Foundation Trust (ELFT). A handful of teams started to work at addressing the issue of staff satisfaction and morale by running improvement projects. There is a wave of interest internationally in bringing back joy in work1.
Why it's Important: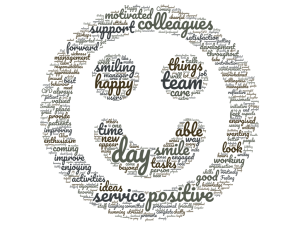 In addition to running appreciative enquiries with some teams, a survey was sent to all staff in early 2017 to gauge what matters to them. What came out of that exercise was astonishing. There was a lot of emphasis on needing to rebuild meaning, teamwork, trust and embrace new ways of working. The responses received from eighty-five survey responders and three services were used to create the wordcloud that is now the symbol of this work.
Who is involved:
Five teams from a variety of the Trust's services have volunteered to be prototype teams for the Enjoying Work workstream. These teams were either already working on this problem or volunteered to get involved. The five teams also represent some of the different type of work environments in ELFT, they are:
Highly mobile staff: West Locality EPCT (Enhanced Primary Care Team)
Geographically dispersed: Luton IAPT (Improving Access to Psychological Therapies)
Geographically centralised: Isle of Dogs CMHT (Community Mental Health Team)
Corporate: Quality Improvement Team
Inpatient: Millhabour Ward
Each service has established a project team which consists of staff from that service. They also have a local sponsor from the directorate management team, a Quality Improvement Advisor to coach them and a named Business Partner from the Human Resources/Organisation Development team. Mason Fitzgerald, Director of Corporate Affairs, is the executive sponsor for the workstream from the Trust Board.
This work will also be linked to other work taking place across the organisation on leadership development and compassionate leadership. We are also keeping in contact with other organisations that are doing this type of work to collaborate and learn from each other. We have also adopted the change ideas and change concepts identified by the IHI (Institute for Healthcare Improvement) in their recently published framework for improving joy in work in healthcare organisations2. Some of these will be tested by the prototype teams together with their locally generated change ideas.
What they are doing:
In the preliminary stages of the work, the prototype teams have been testing how best to approach this work in terms of measurement, appreciative enquiry, defining the problem and testing change ideas.
Some of the prototype teams are still collecting baseline data which will help us set a global aim for this work. We expect that the learning that comes from the teams doing this work will be scaled up to the rest of the organisation as we build confidence in the approaches and changes being tested.
Colleagues from Human Resources and Organisation Development will also be working closely with these prototype teams to test out the new Business Partner model of supporting teams and leaders in tackling specific challenges when leading and delivering services. You can also read in this newsletter about the events that took place in September with more than 200 staff, with Professor Steve Swensen who has led much of the research and work internationally on understanding staff burnout, team engagement, joy in work and quality improvement.
What can you do?:
After the publication of the annual staff survey, many teams make an action plan to address some of the issues which come to light. This also tends to happen throughout the year following team away days and other occasions. At ELFT, improvement has always been part of our DNA and we know that most problems can, and are, being solved without necessarily starting a formal QI project. We would love to hear about what you have tried in your team and what you have learnt while trying to improve staff enjoyment of work. In addition, if you would like to test out some of the tools that the prototype teams have developed for carrying out an appreciative enquiry, or the simple measurement tools, please get in touch. Drop us an email at elft.qi@nhs.net with the subject line "Enjoying Work".
1Feeley D, Swensen SJ. Restoring joy in work for the healthcare workforce. Healthcare Executive. 2016 Sept;31(5):70-71.
2Perlo J, Balik B, Swensen S, Kabcenell A, Landsman J, Feeley D. IHI Framework for Improving Joy in Work. IHI White Paper. Cambridge, Massachusetts: Institute for Healthcare Improvement; 2017.
Click to see just this resource


This is useful for sharing just this resource rather than the whole collection
Introducing the ELFT Working Well Handy Guide
The Working Well Handy Guide has been developed to provide a practical bite-sized resource to help support individuals and teams build satisfaction and wellbeing using a Quality Improvement (QI) approach.   
This is an ELFT resource that takes learning we have gained from supporting over 40 Enjoying Work project teams over the past 4 years. This has been developed with the current COVID-19 landscape in mind where a formal QI project may not be practical.   
The guide is made up of the 6 sections below, with resources and suggestions for use in each section.   
Identifying the quality issues

 

 

Understanding the problem 

 

 

Developing a strategy and change ideas 

 

 

Testing and creating feedback loops

 

 

Implementation and sustaining the gains

 

 

Storytelling 

 

 
Click to see just this resource


This is useful for sharing just this resource rather than the whole collection
Enjoying Work
In June 2018, 21 clinical and non-clinical teams from across East London NHS Foundation Trust (ELFT) came together as the second cohort of the Enjoying Work learning system. Their goal was to enhance the experience of their staff at work, so that they can better serve our communities. This work was pioneered in 2017 with a prototype learning system containing 5 teams.
Find out more about our Cohorts below, and you can register your team to join Cohort 4 of the Enjoying Work learning system from September 2020 here >>
We use quality improvement learning systems as opportunities to bring together teams from across the organization for a period of time around a common subject. They then meet at regular events called learning sets which give teams opportunities to explore potential solutions and share experiences so as to accelerate their testing and learning around the topic.
How we have done it
Through the two cohorts of the Enjoying Work learning system, individuals, leaders, teams and the organisation have continued to learn how to foster joyful places to work using quality improvement methods, leadership models, team building exercises and other tools and methods. We have been testing, on a larger scale, what we have learnt about measurement of staff experience, leadership behaviours for change, how to engage teams, change ideas from the IHI Framework Improving Joy in Work​ and how to do quality improvement (QI) using the ELFT QI Method and the Model for Improvement.
Here you can find learning materials from current and past cohorts:
This is only one of many ways ELFT is trying to improve staff experience, which is at the heart of our new strategy. The evidence suggests that there is a correlation between improved staff experience and improved service user experience and outcomes. [1] Like most other things in life, 'you cannot give what you do not have'. Here's a short video about how we support teams to do this work:
What has been the impact?
More than 500 staff in some 25 teams have already been involved in this work. Feel free to look through some of the stories from teams that have been doing this work. As you read through, look out for some of these themes (i) How teams come together to create their own solutions, (ii) How teams learn together and from each other, and (iii) How challenging, impactful, rewarding and fun the journey is. Behind the numbers are stories of teams and individuals who are making real progress towards creating great places to work.
Click here to access these stories >>
Figure 1- What staff have said about the impact of doing this work
How to get involved
We hope this inspires you to explore different approaches to work in your own teams. Why not share your own top tips for enjoying work on Twitter with the hashtag #EnjoyingWork and tag us at @ELFT_QI.
Follow how the work is progressing via this Twitter feed​.
---
[1] Hall LH, Johnson J, Watt I, Tsipa A, O'Connor DB. Healthcare Staff Wellbeing, Burnout, and Patient Safety: A Systematic Review. Harris F, ed. PLoS ONE. 2016;11(7):e0159015. doi:10.1371/journal.pone.0159015.
Click to see just this resource


This is useful for sharing just this resource rather than the whole collection
Enjoying Work Project Posters
Here are some useful projects that team from each directorates took part in as part of demonstrating what they have learned from Cohort 3 of the Enjoying Work Learning System.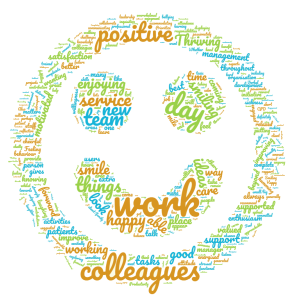 Click to see just this resource


This is useful for sharing just this resource rather than the whole collection
Working Well Handy Guide
Introduction
This Working Well Handy Guide is designed to be used by teams and individuals to help them build staff satisfaction and wellbeing using a Quality Improvement (QI) approach. It is bite-sized and practical – ideal for the COVID-19 landscape where a formal QI project may not be practical. It has been built on East London NHS Foundation Trust's (ELFT) learning from supporting over 40 teams through Enjoying Work projects over the last 4 years. ​
How to navigate:​
The graphic at the top of each page has clickable text that helps you navigate the sections of the guide in sequence. Start from the left and work towards the right as your improvement effort progresses. ​

Each step in the sequence has a 'Try This' clipboard. This is a ready-made activity you can try with your team to apply the theory.

Be sure to see all the resources for a section by pressing

'

Click to see more…

'. 

​
Welcome message from Dr. Amar Shah – Chief Quality Officer
Table of Contents
Below is a brief summary of what is covered in each section of this guide.
Feedback
"Please share with us your experience of using the content on this page."
Click to see just this resource


This is useful for sharing just this resource rather than the whole collection