6 October 2021
Improving Access to Newham Learning Disabilities team
By Susan Alfred, Improvement Advisor and Rachel James, Speech and Language Therapist
"I met with a carer – they had to tell me, just as they have told many health professionals before, all about their journey. They seemed frustrated having to repeat this again and again"
Newham Learning Disabilities team  (NHLD) Team member
What was the Quality Issue?
When our team heard about the frustration expressed above, we knew we had a quality issue concerning access for our service users. There were also consistent problems with meeting our internal target of service users being seen within 28 days by Intensive Support Teams (ISTs). It was hard to ignore. We decided we needed to do something about it.
Understanding the problem
Assessing this issue, we discussed our experiences, and it was clear Newham Learning Disabilities (NHLD) team members were aware that if a service user required support from our team, the initial assessment process was long and slow. We also agreed that the paperwork we used was old fashioned/outdated and resulted in a long report. Most of the time it was likely this would be left somewhere to gather dust and not regularly used. Overall, it would take an average of 48 days from when the referral was received by the service to when it would be allocated to a clinician. This was an opportunity for improvement that we could take on as a team using quality improvement (QI) methodology. We used process mapping (also known as flow charting) to better understand the current process we had in place. This gave us opportunity to reflect and see things differently.
Creating a strategy
It was important that we came up with a good aim that addressed the need to decrease the time taken, where possible, to screen our referrals and get the person through to their intervention without unnecessary delay. We settled on: 50% of new referrals to be triaged, have an initial screening assessment, and to be accepted for treatment within 28 days by June 2020 (date later revised to March 2021). Learning Disabilities (LD) services were significantly impacted by COVID-19 and we decided to move the date we wanted to achieve our aim by to take this into account.
Then we got to work on idea generation as a team using various methods including at away days using paper, an ideas box and an online survey. Using the information we had gathered as a team, we were able to create a driver diagram which you can see in figure one below.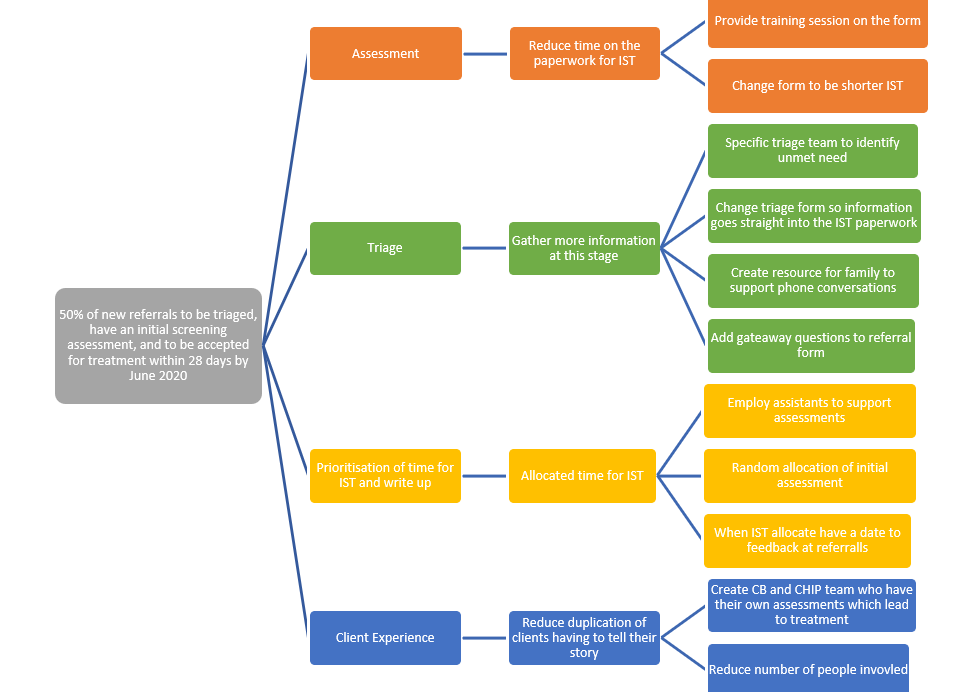 Figure 1: The project driver diagram
To help prioritise what to test first, we presented the various change ideas at a team meeting to help engage the team in decided where to work first. From this, the team decided to test four change ideas using Plan Do Study Act cycles (PDSA) in figure 2, pictured below.

Figure 2: The four change ideas tested using PDSA cycles
Testing Change Ideas
The first change idea was around having a named lead clinician for each referral. The second change idea was to test changing the time of referral meetings to ensure more timely presentations. From the data presented the team felt that these change ideas did not result in an improvement. The third change idea tested was to reallocate some team resources to create a triage team. It was felt that having a dedicated resource to do this would speed up the time from referral to allocation. This was first tested in October 2020 with 4 members of staff spending time triaging referrals. Overall, it was felt that this increased the quality of triage decisions and reduced time from referral to allocation. The final change idea tested was around the development of hospital passport-based triage. A hospital passport is a document detailing the needs of an individual living with Learning Disabilities.
Did we see an improvement?
As a result of the last two changes, the average time in days taken to allocate a referral to clinician reduced from 48 days in baseline to 16 days by the end of the project, a 66% reduction. This has been sustained over a period of 7 months. Figure three below highlights this.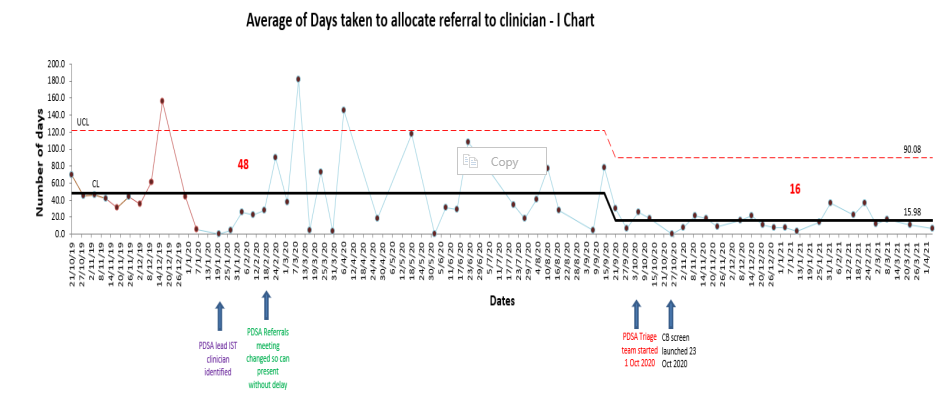 Figure 3: Average number of days taken to allocate a referral to clinician (I chart)
We are now looking to co-locate with social care – we will bring what we have learned from this project into these discussions.