News & Updates
In this short 5 minute  video,  Ward Managers Alice Phillips and Mark Fassihi from Newham Centre for Mental Health describe their approach to improving flow using QI methods on Ruby Triage ward. 
---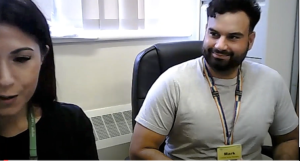 ---
By Laura Ann Roughan & Jamie Stafford The aim of the project was to reduce the average length of time from initial referral to CAMHS to 'ADHD assessment feedback' to 12 weeks. Please follow the link below for the full article. https://qi.elft.nhs.uk/wp-content/uploads/2019/11/Demand-and-Capacity-in-an-ADHD-team.-L.A-Roughan-and-J.-Stafford.pdf
---

---
By James, expert by lived experience Optimising Flow in healthcare is often thought of in terms of improving processes to ensure our service users have the best experience possible throughout their care pathway. However, at the recent Optimising Flow QI programme, James, a service user who uses ELFT adult services described the impact of the… Read More
---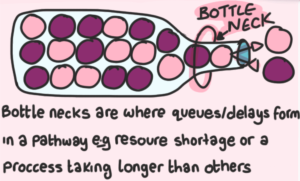 ---
By Carole Green, Improvement Advisor, ELFT QI In this short 5 minute video you can hear how Newham CAMHS are using QI to improve flow in their system. General Manager Fiona Stockley shares what the team are working on and why it's important, how they have been using some simple tools to understand their system… Read More
---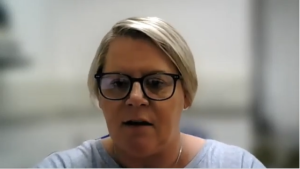 ---
By Candace Sinclair, Improvement Advisor In this 5-minute read, learn how the Integrated Learning Disability Service (ILDS) team in City and Hackney have used time trackers as a tool to better understand staff capacity. The ILDS in City and Hackney have been working on an Optimising Flow project to reduce the time it takes for… Read More
---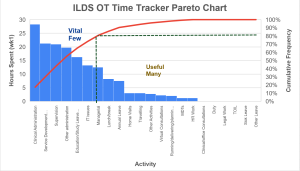 ---
By Sharon Eplett (Head of Quality and Performance) and Nicola Ballingall (Senior Improvement Advisor) Bedfordshire Community Health Services (BCHS) have made significant improvements to their physiotherapy and Occupational Therapy waiting times. Find out about the methods they used in this interview with their QI Coach, Sharon Eplett. Nicola: How have you built momentum for the… Read More
---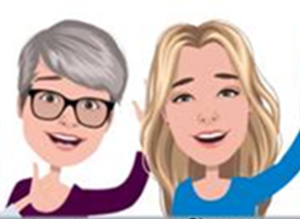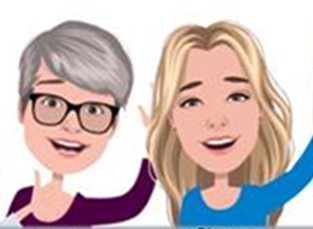 ---
By Nicola Ballingall, Senior Improvement Advisor This 12-minute video is an introduction to some of the basic concepts behind optimising flow: activity, backlog, capacity, and demand. It includes tips on how to match demand and capacity, such as by reducing the batching, queues, and bottlenecks in the system.
---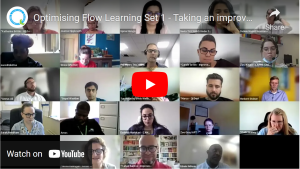 ---
By Gemma Wallington & the THAS team Have you ever felt overwhelmed with a quality issue and are unsure where to start? If so, this 3-minute read shows how the Tower Hamlets Autism Service (THAS) have broken down their processes into manageable chunks and reduced their waiting times. Who are we? THAS is a diagnostic… Read More
---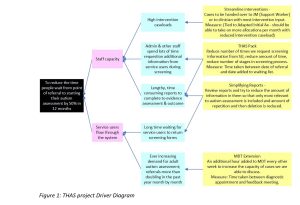 ---
by Carlos Santos, Improvement Advisor and Gemma Blake-Ryder The Tower Hamlets Extended Primary Care Teams (TH EPCTs ), working across four localities in Tower Hamlets, have come together to start an amazing piece of improvement work, aiming at reducing the size of waiting lists for Therapies by 12% by December 2022. To achieve this, the teams… Read More
---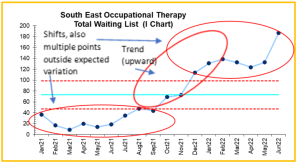 ---
Over the past 50 years, the recognition of the role that the wider social determinants of health play have been increasingly highlighted. These building blocks of health include things like work, education, housing, demographic factors and access to food to name a few. However, what is clear is that those who are more socio-economically disadvantaged… Read More
---

---
Justine Cawley, ELFT Trustwide Lead for Perinatal Mental Health In this clip you can hear from Justine on how they are working to support improving outcomes for women experiencing perinatal mental health issues. Hear why it's important to some of the groups most impacted by the issue. You will also hear what the team are… Read More
---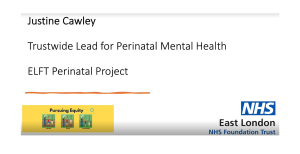 ---
By Catherine Heaney, Improvement Advisor, ELFT QI Three teams in Newham Adult Mental Health services, are working to pursue equity for those they serve using Quality Improvement (QI) methods as part of the ELFT Pursuing Equity Programme. In this story you can find some short video clips from these teams describing the focus of their… Read More
---
---